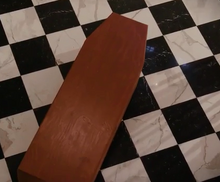 This is a list of the deaths from the series. It will also show who is safe and who won the game.
Key:
| Red | Died in the episode |
| --- | --- |
| Green | Winner of the season |
| Pink | Safe after being voted for final challenge of the episode |
| Orange | Killed but brought back to life |
| No Color | Safe but not voted for final challenge of the episode |
Season 1
How They Died
Shane- poisoned by the evil of the house
Andrea- toxic gas filled her chamber
Justine- buried alive by the other guests
GloZell- Joey wrote her name in the Murder Journal
Sierra- convulsed and died due to demonic possession
Matt- drank poison twice
Timothy- shot himself in the head
Lele- electrocution
Season 2
How They Died
Ad blocker interference detected!
Wikia is a free-to-use site that makes money from advertising. We have a modified experience for viewers using ad blockers

Wikia is not accessible if you've made further modifications. Remove the custom ad blocker rule(s) and the page will load as expected.